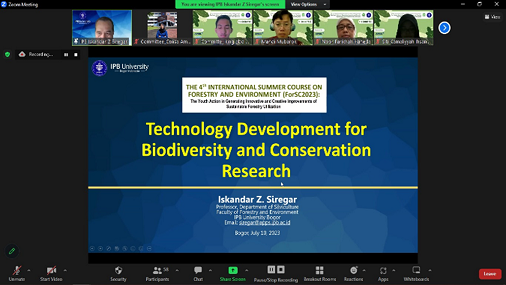 ---
Dalam rangka meningkatkan kerja sama antar universitas, baik di dalam maupun di luar negeri, Fakultas Kehutanan dan Lingkungan (Fahutan) IPB University secara rutin mengadakan kegiatan summer course. Pada tahun keempat ini, Summer course on Forestry and Environment (ForSC2023) mengusung tema The Youth Action in Generating Innovative and Creative Improvements of Sustainable Forestry Utilization.
Kegiatan ForSC2023 ini diselenggarakan secara pembelajaran campuran (blended learning) pada periode 10-25 Juli 2023. Kegiatan dilaksanakan untuk memfasilitasi generasi muda untuk dapat menambah pengetahuan serta menumbuhkembangkan kreativitas daya cipta mereka yang bersifat inovatif terkait pengolahan hasil hutan yang bijaksana, termasuk pengelolaan hutan secara lestari.
"Beragam aktivitas di antaranya saling bertukar pengalaman, berdiskusi dan juga inisiasi pengalaman untuk bekerja sama antar mahasiswa dan praktisi, baik di level nasional maupun internasional merupakan beberapa poin kritis yang menjadi sasaran pada program summer course ini. Pengolahan hasil hutan yang tepat guna akan mampu menjaga kelestarian hutan, terutama hutan alam yang saat ini semakin berkurang jumlahnya," kata Dr Mahdi Mubarok, ketua pelaksana summer course.
Oleh karena itu, kata dia, tantangan dunia kehutanan ini bukan hanya menjadi masalah satu atau dua negara, melainkan masalah bersama. Dengan demikian, adanya kegiatan summer course ini diharapkan mampu meningkatkan peran dan partisipasi generasi muda di dunia, khususnya dalam mengolah dan melestarikan hutan.
Dalam kesempatan itu, Dekan Fahutan IPB University, Dr Naresworo Nugroho mengutarakan pentingnya aksi dari para generasi muda dalam mengelola dan mengolah hutan secara lestari. Kuliah umum disampaikan oleh Wakil Rektor IPB University bidang Konektivitas Global, Kerjasama dan Alumni, Prof Iskandar Z Siregar yang menerangkan berbagai macam cara mengelola hutan dengan lestari.
Kegiatan ForSC2023 yang disponsori oleh PT RAPP APRIL Group, Perum Perhutani dan PT RPN itu diikuti oleh puluhan peserta dari lima negara. Program summer course tersebut akan setara dengan 2 sistem kredit semester (SKS) bagi peserta daring dan akan setara dengan 3 SKS bagi peserta yang juga mengikuti excursion di Hutan Pendidikan Gunung Walat, Sukabumi.
Total materi yang disampaikan sebanyak 23 topik perkuliahan oleh narasumber dari mancanegara, tiga kunjungan secara virtual maupun faktual (virtual & factual visits) dan adanya kompetisi mahasiswa (Youth Initiative Contest), sehingga total waktu pelaksanaan kegiatan setara dengan 135 jam. (*/Rz)

Published Date : 25-Jul-2023
Narasumber : Dr Mahdi Mubarok, Dr Naresworo Nugroho
Kata kunci : Fahutan IPB, ForSC2023, summer course IPB
SDG : SDG 3 – KESEHATAN YANG BAIK DAN KESEJAHTERAAN, SDG 13 – PENANGANAN PERUBAHAN IKLIM, SDG 15 – MENJAGA EKOSISTEM DARAT