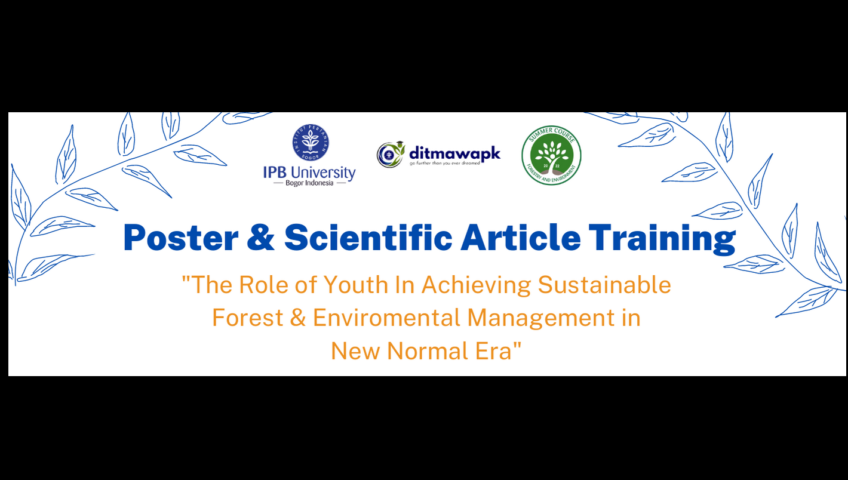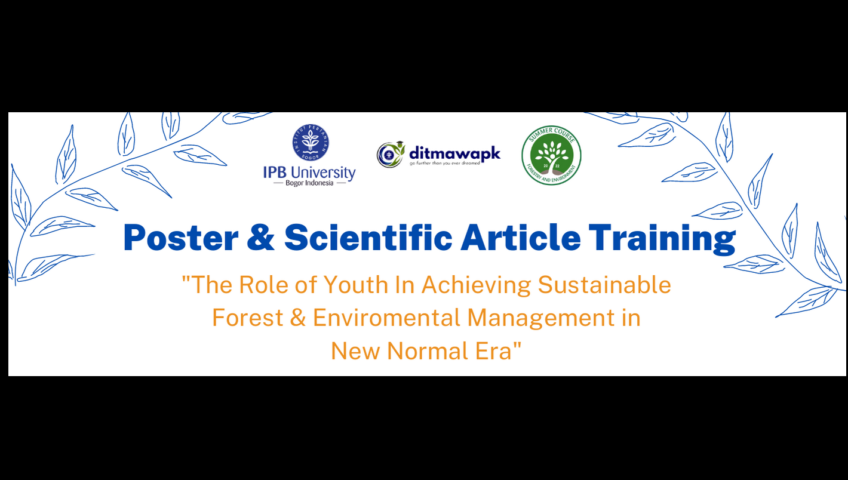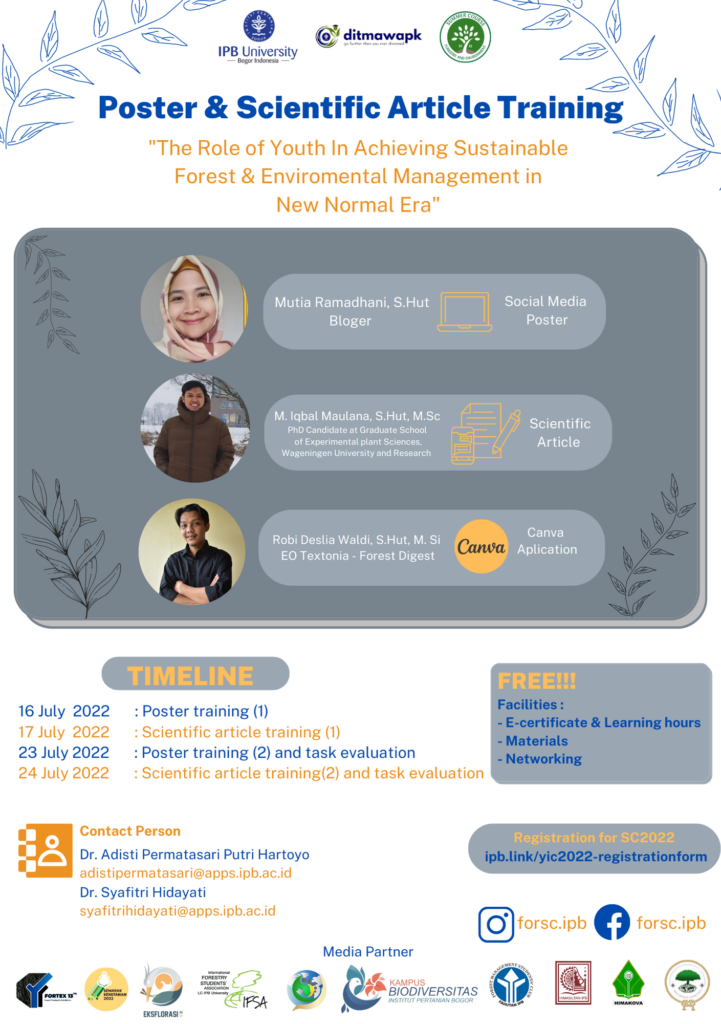 "The Role of Youth in Achieving Sustainable Forest & Environmental Management in New Normal Era"
[POSTER AND SCIENTIFIC ARTICLE TRAINING]
Hello Millenials!
Poster and Scientific Article Training merupakan rangkaian dari Youth Initiative Contest 2022 dan Summer Course Fakultas Kehutanan dan Lingkungan (ForSC IPB 2022). Kegiatan ini betemakan "The Role of Youth in Achieving Sustainable Forest & Environmental Management in New Normal Era"
Poster and Scientific Article Training akan dilaksanakan pada :
Poster Training
🗓️: Sabtu, 16 dan 23 Juli 2022
⏰: 08.00 WIB
📍Live on Zoom Meeting https://ipb.link/yicforsc2022
Meeting ID: 997 8463 4581
Passcode: YIC2022
Scientific Article Training
🗓️: Minggu, 17 dan 24 Juli 2022
⏰: 08.00 WIB
📍Live on Zoom Meeting https://ipb.link/yicforsc2022
Meeting ID: 997 8463 4581
Passcode: YIC2022
Narasumber dan Trainer :
1. Mutia Ramadhani, S.Hut
(Blogger)
2. Muhammad Iqbal Maulana, S.Hut, M.Sc
(PhD Candidate at Graduate School of Experimental Plant Sciences
Wageningen University and Reseach)
3. Robi Deslia Waldi, S.Hut, M. Si
(EO Textonia – Forest Digest
Master of Ceremony:
– Ikhwan Shodiq Syifaudin, S.Hut
– Labana Hutagalung, S.Hut
Registrasi : https://ipb.link/yic2022-registrationform
Dont Forget and Come on!
"Jadilah millenials yang siap menyambut masa depan dengan segala persiapan"
Narahubung
adistipermatasari@apps.ipb.ac.id
syafitrisyafitrihidayati@apps.ipb.ac.id
Terima kasih.
Panitia Training
———————————
IG : forsc.ipb
Facebook : forsc.ipb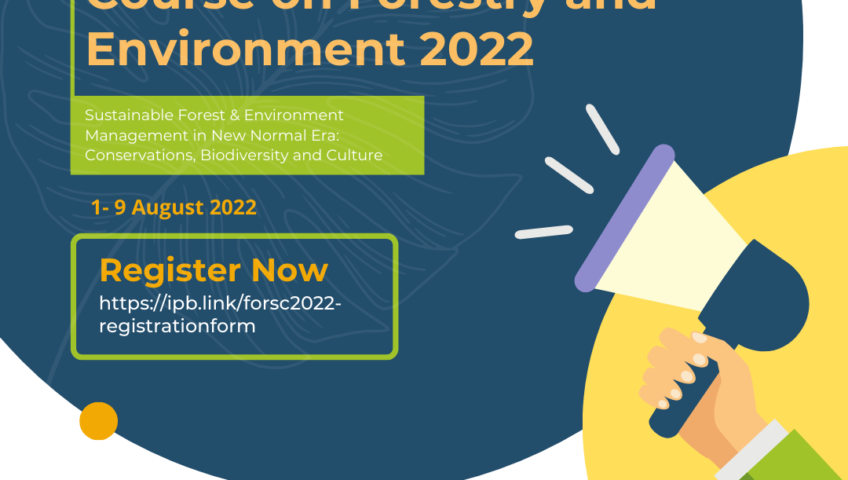 🌳Hello Environment palls!🌳
Are you a student who interested in conservation, biodiversity, and forestry?
Are you also looking for relevant activities to learn and improve your knowledge?
Excellent!, This news is really suitable for you! The Faculty of Forestry and Environment, IPB University (IPB) together with Perhutani, will hold an event International Summer Course on Forestry and Environment 2022 * dengan tema"*Sustainable Forest & Environment Managementin New Normal Era: Conservation, Biodiversity, and Culture".
This summer course will help us learn and share knowledge about Forestry Management during the COVID-19 Pandemic presented by the leading lecturers. We will also have a virtual visit to Gunung Walat Educational Forest!
This activity is open to all active national and international undergraduate and master's students interested in studying the environment!
🔭Activities you will get:
1. General Course
2. Virtual Visit
3. Youth Initiative Contest
👤Leading Lecturer with interesting topics:
1. Pranab J Patar- Global Foundation India / Sustainable Environmental Management
2. Dr. Ani Kartikasari-Lincoln University / Social Entrepreneurship for Community-based Tourism
3. Rachael Holmes- University of Leicester / Archaeology and Anthropology in Mangrove
4. Dr. Badrul Azhar-UPM / Oil Palm-Livestock Integrationa System in the Context of Environmental Management
5. Prof. Abdul-nasser D. Lomantong-Mindanao State University / Adaptation and Mitigation of Sustainable Forest Management in Pandemic Era
6. Prof Malencio C Jalova. Jr-Mindanao State University / Sustainable Environmental Management in Pandemic Era
7. Prof. Ani Mardiastuti, MSC-IPB University / Biodiversity Management in Pandemic Era
8. Dr. Arzyana Sunkar-IPB University / Gender and Sustainable Forest Management
9. Prof Bambang Hero Sahardjo-IPB University / The Role of Environment for the future of Biodiversity in New Normal Era
10. Prof. Iskandar Zulkarnain-IPB University / Biotechnology and Tree Improvement for Biodiversity
11. Perum Perhutani / Sustainable Forest Management at Plantation Forest (Case Study: PERUM PERHUTANI)
12. Kuswandono, S.Hut, MP-Way Kambas National Park, Indonesia / Sustainable Forest Management at Protected Area
13. Dr. Ellyn K Damayanti-IPB University / Sustainable Forest Management and Covid-19
14. Gunung Walat University Forest Team / Virtual Visit to HPGW
Mark the important dates!
🗓 Summer course: 1-9 August 2022
🕰 Early bird Registration : 15th April-31st May 2022
Regular Registration: 1st-30th June 2022
Selection of Participants: 1st-15th July 2022
Announcement of selected participants: 20th July 2022
Course Fee:
👤 Local Participant: Early Bird 250.000 IDR / Bird $55
👤 International Participant: Early Bird 350.000 IDR/ Late Bird $45
🖥 Registration Link: https://ipb.link/forsc2022-registrationform
Register yourself, and don't forget to invite your friends to join! Get Knowledge from reputable teachers, experience, and e-Certificate!
For further information pleas kindly check the poster or Contact Person: Dr Eva Rachmawati (+62 812-9456-148)
#InternationalSummerCourse2022
#Forestry&Environment
#Conservation
#Biodiversity
#Culture
Download