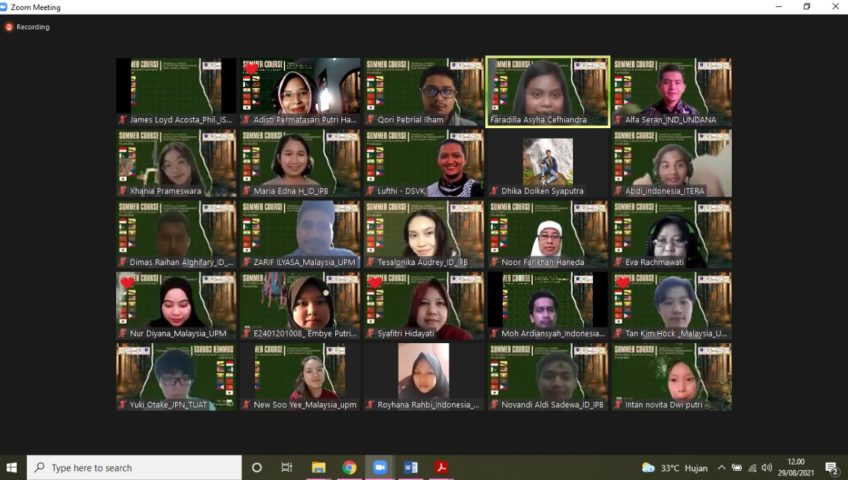 "Tropical Forest Ecosystem Management and Innovations (ForSC2021)"
International Summer Course on Forestry and Environment ini merupakan acara rutin yang diselenggarakan oleh Fakultas Kehutanan dan Lingkungan IPB University setiap tahunnya. Pada penutupan acara, Dr Adisti Permatasari Putri Hartoyo selaku Chairperson The 2nd International Summer Course on Forestry and Environment "Tropical Forest Ecosystem Management and Innovations (ForSC2021)" menyampaikan bahwa tahun ini kegiatan ForSC2021 menggandeng organisasi kemahasiswaan IFSA-LC IPB dan berkolaborasi dengan kegiatan The 3rd International Conference on Tropical Silviculture (ICTS2021). Kegiatan ini telah berlangsung sejak tanggal 21-29 Agustus 2021 dengan dihadiri oleh sekitar 117 peserta dari 11 negara dan 18 narasumber dari berbagai perguruan tinggi di dunia, praktisi, juga pihak swasta. ForSC2021 diharapkan mampu menjawab tantangan dalam pengelolaan ekosistem hutan tropis dengan mendorong generasi muda dalam mengemukakan ide-ide inovatif serta solutif.
Hal tersebut juga diaminkan oleh Dr. Noor F. Haneda selaku Wakil Dekan Bidang Akademik dan Kemaahsiswaan. Beliau berharap melalui acara ini menjadi awal yang bagus dan para generasi muda bisa berkolaborasi antar negara serta terbangun jejaring yang lebih luas untuk pengelolaan ekosistem hutan tropis yang lestari.
Kegiatan Summer Course ini ditutup dengan suguhan wisata virtual yang cantik dari Taman Nasional Gunung Gede Pangrango (TNGGP) yang dipresentasikan oleh Bapak Dadang Suryana, S.Hut, M.Sc selaku Kepala Bidang PTN Wilayah III, Balai Besar TNGGP.
Sebagai rangkaian acara penutupan diumumkan para pemenang kegiatan Youth Initiative Contest. Pemenang The Most Outstanding Student berhasil diraih oleh Alfa Jan Seran dari Universitas Nusa Cendana, Kupang. Pemenang kompetisi poster diraih oleh Grup 18 dengan judul "ForestUs.id: IoT-based Mobile Application to Optimize Sustainable Tropical forest Management in Indonesia", dan pemenang kompetisi artikel ilmiah diraih oleh James Loyd B. Acosta dari Iloilo Science and Technology University dengan judul "Juvenils:The warriors of tomorrow land".
Para peserta juga menyampaikan testimoninya dalam bentuk video singkat. Mereka sangat senang bergabung acara ForSC2021 karena menambah pengetahuan, keterampilan, ide kreatif dan berharap bisa bergabung kembali pada acara Summer Course tahun depan
Resource person: Dr. Adisti P.P Hartoyo