Tropical Forest Ecosystem Management and Innovation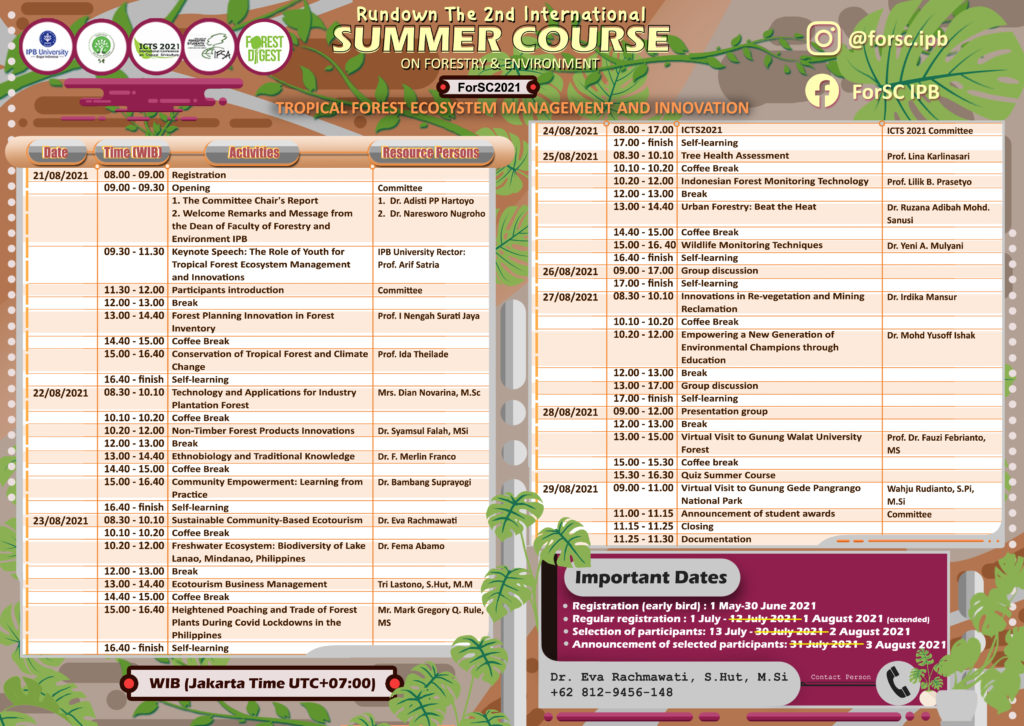 [🌳☘️Virtual Summer Course, Faculty of Forestry and Environment, IPB University] 🌳☘️
Dear Forestry Enthusiast,
Faculty of Forestry and Environment, IPB University proudly presents The 2nd International Summer Course on Forestry and Environment (ForSC2021) "Tropical Forest Ecosystem Management and Innovations" that will be integrated with The 3rd International Conference on Tropical Silviculture (ICTS2021) and Youth Initiative Contest.
This virtual summer course will be held:
🗓️ August 21-29, 2021
📍 Zoom Meeting
Wait, there's SPECIAL offering for you!
Whoa! What is that?!
✨ Summer Course Scholarship ✨
This is available for 50 participants which will selected by the committeess just based on their motivation letter ( free registration fee! )
We're also offering:
2 credits earning (general lectures)
2 virtual visits
Youth initiative contest
International conference on tropical silviculture
So, What are you waiting for? Don't waste this golden opportunity and register yourself! ✨
Registration: https://ipb.link/forsc2021
Let join and enjoy with us! Stay at home, and get all the benefits. Thank you!
Best regards
ForSC2021
🌿☘️🍀🌳🍀☘️🌿
Further information:
🧕🏻Dr. Eva Rachmawati
+62 812-9456-148
📧 forsc@apps.ipb.ac.id
IG: forsc.ipb
FB: ForSc IPB
Website: www.fahutan.ipb.ac.id/summer-course or www.ifsalcipb.org