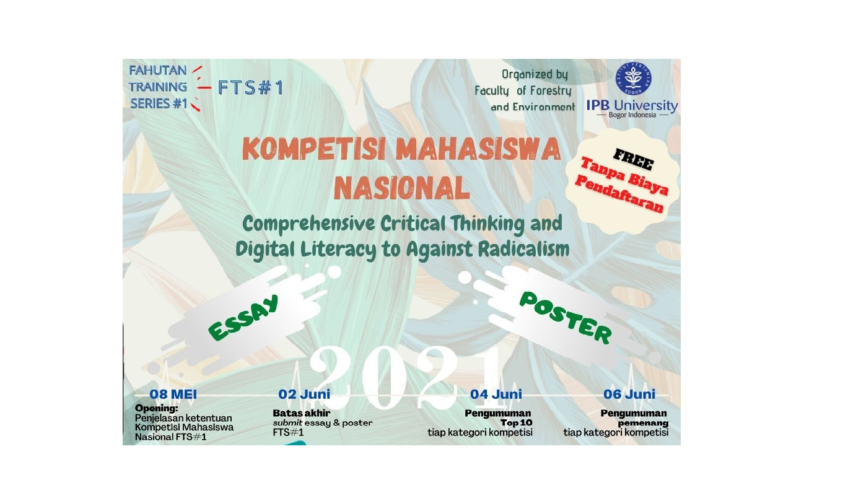 COMPREHENSIVE CRITICAL THINKING AND DIGITAL LITERACY TO AGAINST RADICALISM
KOMPETISI MAHASISWA NASIONAL ESSAY & POSTER
I. KRITERIA PESERTA
Peserta adalah mahasiswa aktif Diploma/S1 (lampirkan scan/copy Kartu Tanda Mahasiswa) yang telah mengikuti rangkaian kegiatan FTS#1
Perorangan atau kelompok (maksimal 3 orang)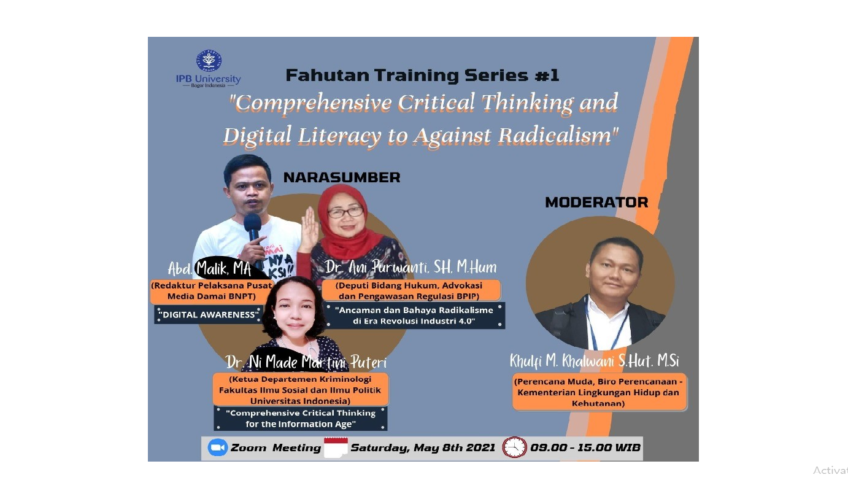 "Comprehensive Critical Thinking and Digital Literacy to Against Radicalism"
[Fahutan Training Series #1-2021]
Hai Kaum Muda, Mahasiswa Indonesia yang merdeka dari segala bentuk kekerasan dan berhasrat untuk selalu mendayagunakan akal budi
Fakultas Kehutanan dan Lingkungan IPB University dengan bangga mempersembahkan:
Fahutan Training Series #1
Webinar & Virtual Training
"Comprehensive Critical Thinking and Digital Literacy to Against Radicalism"
🗓️ Sabtu 08 Mei 2021
🕤 09.00 -15.00 WIB
📍 Via Zoom Meeting & YouTube Fakultas Kehutanan dan Lingkungan IPB
📢 Narasumber:
1️⃣ Dr. Ani Purwanti, SH, M.Hum
Deputi Bidang Hukum, Advokasi dan Pengawasan Regulasi BPIP
(Ancaman dan Bahaya Radikalisme di Era Revolusi Industri 4.0)
2️⃣ Dr. Ni Made Martini Puteri
Ketua Departemen Kriminologi Fakultas Ilmu Sosial dan Ilmu Politik Universitas Indonesia
(Comprehensive Critical Thinking for the Information Age)
3️⃣ Abd. Malik, MA
Redaktur Pelaksana Pusat Media Damai BNPT
(Digital Awareness)
Moderator:
Khulfi M. Khalwani, S.Hut., M.Si
Perencana Muda, Biro Perencanaan, Kementrian Lingkungan Hidup dan Kehutanan (KLHK)
••••••
Untuk peserta yang ingin mendaftar langsung klik link di bawah ini:
http://ipb.link/fts1-2021
Fasilitas: E-Sertifikat, modul/materi pelatihan, doorprize, dan GRATIS
Ada kompetisi nasional juga lho: Essay dan Poster
SLOT TERBATAS
Narahubung:
Qori P. Ilham (082122104385)
"Kaum Muda Merupakan Masa Depan Bangsa, Tak Terpisahkan dari Perjalanan Panjang Bangsa"
Terima kasih.
Panitia Fahutan Training Series
🌿☘️🍀🌳🍀☘️🌿
Website : https://fahutan.ipb.ac.id/
Youtube :https://www.youtube.com/channel/UCyFDzsWjP6waxBPo-XGIeNQ
Instagram :https://www.instagram.com/forest.env/
Twitter : https://twitter.com/ForestEnv
Facebook : https://facebook.com/Fakultas.lingkungan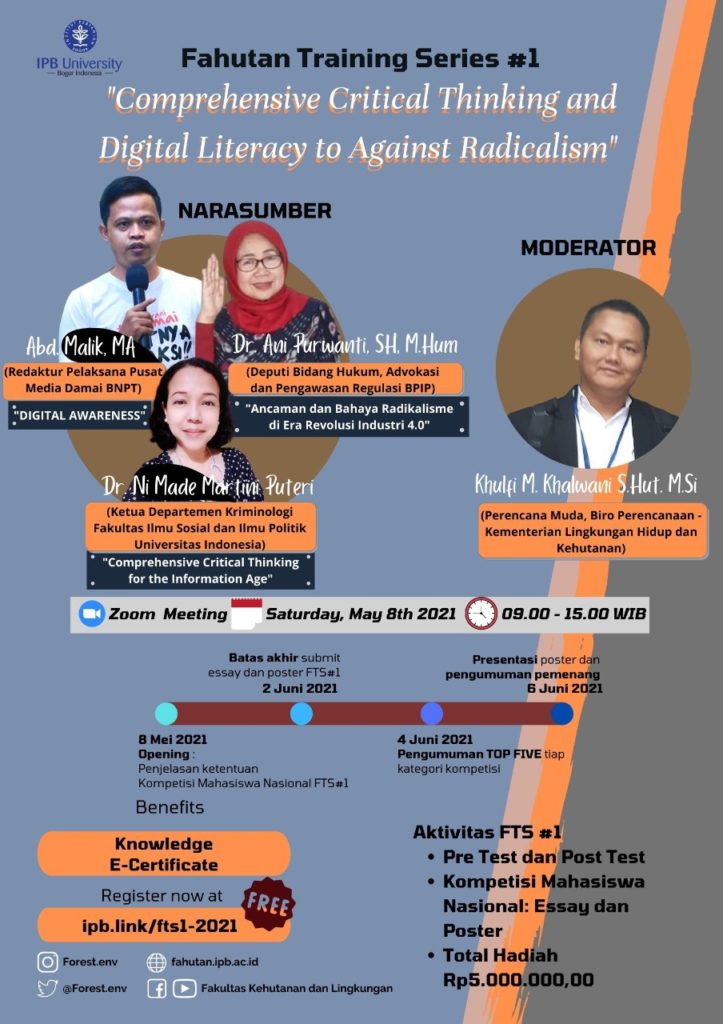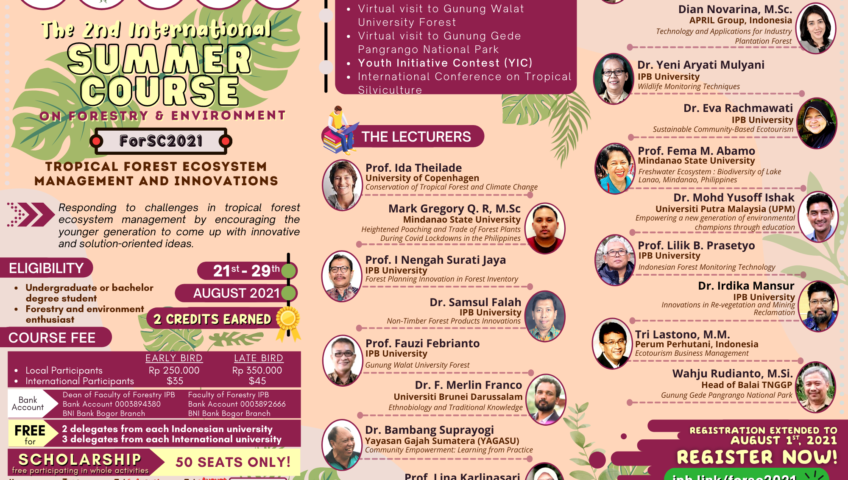 Tropical Forest Ecosystem Management and Innovation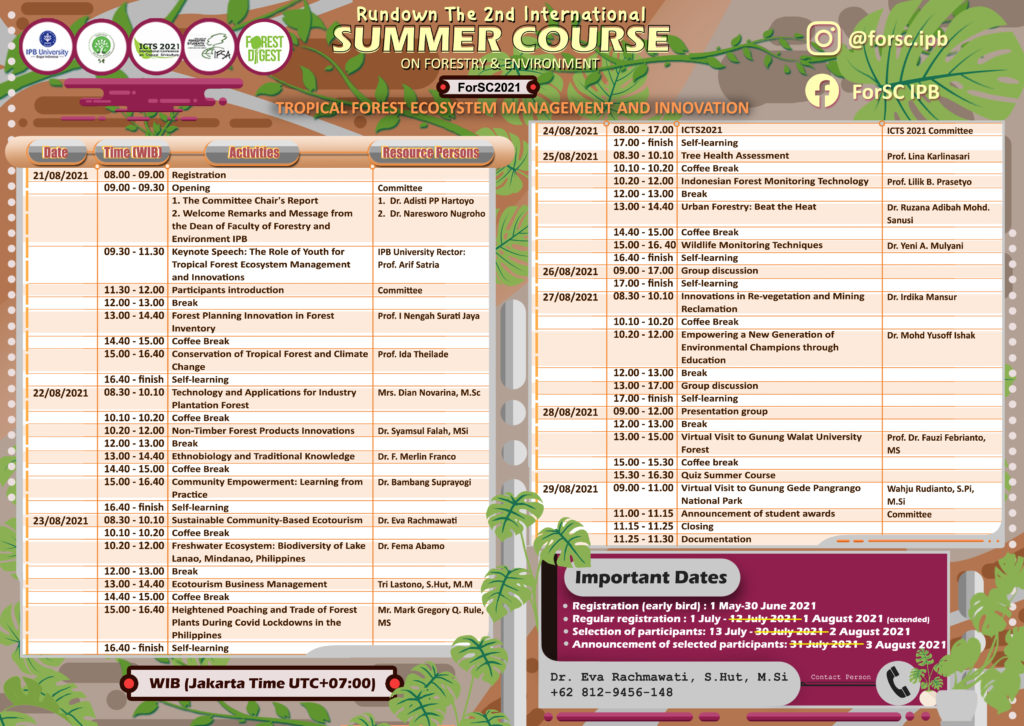 [🌳☘️Virtual Summer Course, Faculty of Forestry and Environment, IPB University] 🌳☘️
Dear Forestry Enthusiast,
Faculty of Forestry and Environment, IPB University proudly presents The 2nd International Summer Course on Forestry and Environment (ForSC2021) "Tropical Forest Ecosystem Management and Innovations" that will be integrated with The 3rd International Conference on Tropical Silviculture (ICTS2021) and Youth Initiative Contest.
This virtual summer course will be held:
🗓️ August 21-29, 2021
📍 Zoom Meeting
Wait, there's SPECIAL offering for you!
Whoa! What is that?!
✨ Summer Course Scholarship ✨
This is available for 50 participants which will selected by the committeess just based on their motivation letter ( free registration fee! )
We're also offering:
2 credits earning (general lectures)
2 virtual visits
Youth initiative contest
International conference on tropical silviculture
So, What are you waiting for? Don't waste this golden opportunity and register yourself! ✨
Registration: https://ipb.link/forsc2021
Let join and enjoy with us! Stay at home, and get all the benefits. Thank you!
Best regards
ForSC2021
🌿☘️🍀🌳🍀☘️🌿
Further information:
🧕🏻Dr. Eva Rachmawati
+62 812-9456-148
📧 forsc@apps.ipb.ac.id
IG: forsc.ipb
FB: ForSc IPB
Website: www.fahutan.ipb.ac.id/summer-course or www.ifsalcipb.org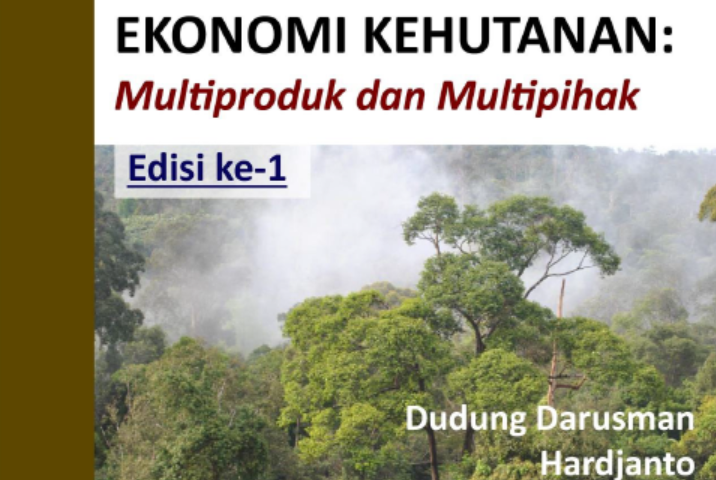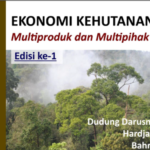 Kepada indonesia sebagai negara berdaulat, Allah SWT Telah menganugerarhi kekayaan sumberdaya alam hutan yang sangat besar, mencakup kurang lebih 60% luas daratannya . Sumberdaya hutan alam indonesia sungguh istimewa, dengan faktor habitat dan iklim yang sangat baik yang dapat memberikan pertumbuhan biomassa yang tinggi , serta memiliki kekayaan keragaman hayati (biodiversity) dan non hayati (landscape) yang tinggi.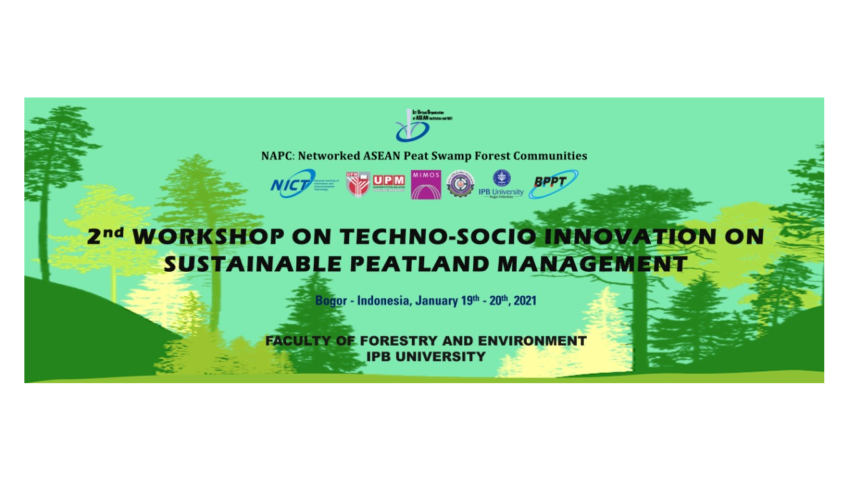 Fakultas Kehutanan dan Lingkungan IPB University bekerjasama dengan ICT Virtual Organization of ASEAN Institutes and NICT (ASEAN IVO) akan menyelenggarakan The 2nd Workshop on Techno-Socio Innovation on Sustainable Peatland Management yang akan dihadiri oleh peserta dari Brunei Darussalam, Malaysia, Jepang dan Indonesia pada tanggal 19 dan 20 Januari 2021. Acara ini merupakan sesi sharing tentang inovasi teknologi dan sosial untuk pengelolaan lahan gambut berkelanjutan yang dikembangkan oleh masing-masing institusi/Negara.
Berikut Dilampirkan " Link materi: https://ipb.link/material2ndtechno-sociopeatland2021 "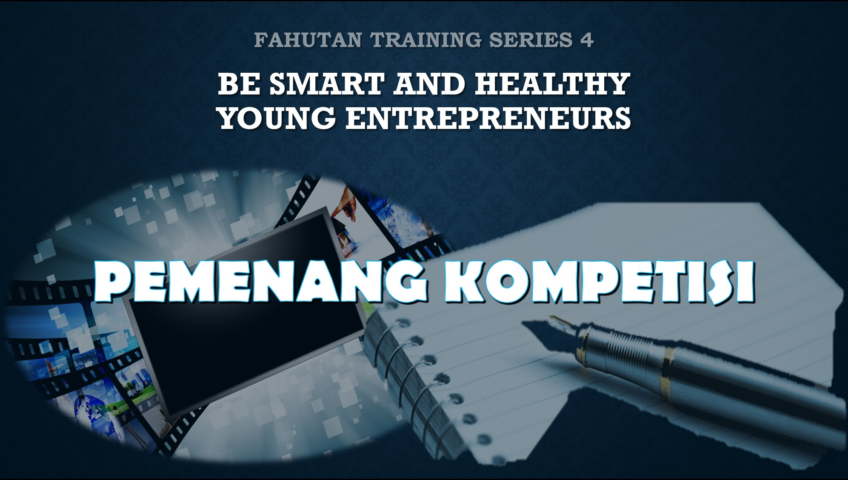 Hi Kaum Muda,
fahutan.ipb.ac.id Kami ucapkan selamat kepada para pemenang kompetisi video pendek anti narkoba dan kompetisi penyusunan rencana bisnis yang merupakan bagaian dari kegiatan Fahutan Training Series 4: Be Smart and Healthy Young Entrepreneurs.Read More